Spoken English Classes With Certification in Shillong – Join Today
Learning English is an important skill for anyone looking to get ahead in their career. Jobsdeal's English Coaching Classes in Shillong provide the perfect opportunity for those looking to learn spoken English and gain certification.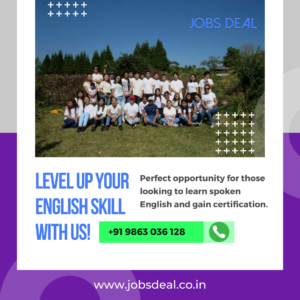 With experienced teachers and interactive classes, these classes provide a great learning experience. Students can expect to learn the fundamentals of grammar, pronunciation, and conversation in a fun and engaging environment.
Additionally, they will also be provided with certification upon completion of the course that will help them stand out from the competition when applying for jobs or further studies.
So if you are looking to improve your spoken English skills in Shillong, join Jobsdeal's Spoken English Classes With Certification today! Jobsdeal's English Coaching Classes in Shillong Jobsdeal is the premier and most trusted job consultancy to find your dream career.
We are one of the largest recruitment companies in the Northeast. We specialize in recruiting for MNC companies, Call centers, Travel & Hospitality Industry, Air hostesses, cabin crew, flight attendants, Information technology, and many more.
Our team of experts has helped candidates get into these companies by offering them personalized services like resume reviews and mock interviews so that they can ace their interviews.